Ciao tutti! It's time for me, your Istanbul-born volunteer, to share the highlights of my journey with Fattoria Pugliese Diffusa in the charming town of Taurisano. April was full of guests, trips, festivities, and delicious food of Salento as I take you through my month in this vibrant community. Andiamo!
FattoNews: Spreading Opportunities and Information
I had the incredible opportunity to contribute to FattoNews, our organization's brainchild aimed at informing and empowering young people across Europe. Through its four sections, Volunteering, Internship, Learning, and Internship, we strive to connect individuals with exciting prospects and broaden their horizons. It's a platform that fills me with joy knowing I'm part of something that can make a difference in someone's life like it did in my life.
Lecce Escapade with Vanessa
One of the nicest trips I had was to the enchanting city of Lecce, and I had the pleasure of sharing this experience with my flatmates and Vanessa whose kindness knows no bounds. From strolling through picturesque streets to admiring awe-inspiring architecture, Lecce truly stole my heart. The best rustico you can find around Puglia is in Lecce. If you don't know what "rustico", you are missing some stuff in life. It's a puff pastry mostly filled with tomato and mozzarella. Their secret ingredient in Lecce is Béchamel! I recommend trying a freshly made rustico in Lecce!
Unforgettable Napoli Adventure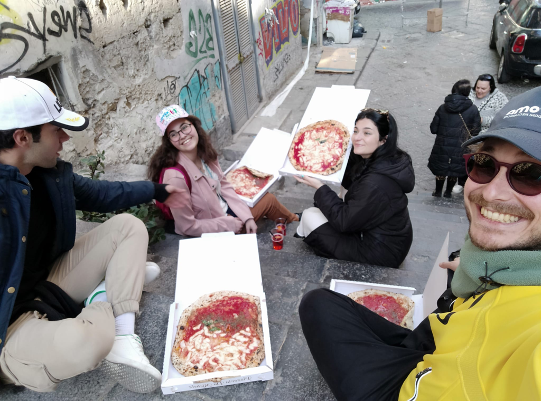 Even falling ill just before Paasqua couldn't kill our travel spirits. Alongside my flatmates Sara and Orhan, we embarked on an unforgettable journey, thanks to our dear friend Vanessa from Taurisano who helped us to arrive in Lecce in time. Boarding a bus from Lecce, we ventured to Napoli, enchanted by its vibrant atmosphere, cultural riches, and mouthwatering culinary delights. We spent two nights in Lecce. Because of some budgetary issues, we spent the first night outside by walking around the city, and drinking coffee in 7/24 hours open bars. At noon, we went to the seaside and slept there 1-2 hours to get some energy for the rest of the day.
The highlight of the trip was definitely L'Antica Pizzeria da Michele! There are two ideas for their mouth watering pizza; whether it is nice because you should wait at least 2 hours or it is simply nice. Anyway, you should add to your route! (Until now, Napoli is my favorite destination!)
The Agile Project
(Lunch in Ruffano)                                                                          (Dinner in Fattoria)
In addition to the vibrant activities and adventures I've shared earlier, I must mention the wonderful presence of our hosts from Romania and Spain, who joined us for the AGILE (Ancient Games and Intergenerational Learning for Legality) project. Their arrival infused our community with diverse perspectives and cultural richness. We began our day with a productive meeting at the office, discussing the project's progress and brainstorming ideas. Later, we embarked on a cultural excursion to a museum in Ruffano, immersing ourselves in the region's history and heritage. A traditional lunch accompanied by lively pizzica music enhanced our experience, allowing us to savor the flavors of Puglia. As the day drew to a close, we gathered once again at the office for an event under the umbrella of FATTO GUSTO, celebrating the culinary wonders of the region. With delectable dishes and delightful conversations, it was a fitting end to a day filled with exploration, learning, and gastronomic delights.
Pizza Delight and Unexpected Surprises
Life is full of delightful surprises, and one Friday, Evangelista, our esteemed president, left us a pleasant surprise of 15 euros to enjoy a feast at one of the town's finest pizzerias, Lu Spilu. With cold beers in hand and delicious pizzas before us, we enjoyed the flavors of Italy, relishing each bite of my personal favorites, the classic 4 stagioni and salami. It was a celebration of flavors and camaraderie that made our hearts melt like mozzarella.
In conclusion, my time with Fattoria Pugliese Diffusa will undoubtedly add a few extra kilos to my waistline :). Through FattoNews, engaging music workshops, thrilling trips, immersing myself in local traditions, and, of course, enjoying the delightful culinary offerings, I have not only grown as an individual but also discovered the true essence of community. Grazie mille for accompanying me on this incredible journey!
With warm regards,
Emir