Ciao, fellow wanderers! Get ready to dive into a whirlwind of experiences as I take you on a virtual tour of my volunteer journey with Fattoria Pugliese Diffusa in the charming town of Taurisano, located in the sun-kissed South of Italy. From room cleaning to music workshops, from delicious dinners to birthday bashes, this month was packed with unforgettable moments and fantastic people.
Jamming Through Saturdays:
Who needs a DJ when you have a music workshop? Thanks to "La Liberta" projects, Saturdays became a symphony of melodies as I joined the future musicians of Taurisano in a lively workshop session. From strumming guitars to tapping tambourines, we let our creativity flow, turning the workshop into a celebration of rhythm, and learning by the guidance of great master Marco Puzzello. Trust me, starting the weekend with Mr. Puzzello and his students will be your favorite in a short time.
Volunteer Training in the Eternal City:
(I'm the one on the right 🙂
Hold on to your gelato cones, folks, because I took a trip to Rome for some volunteer training! The Volunteer Training Camp organized by the Italian National Agency provided a comprehensive and engaging program for participants. From team-building exercises and creating personal profiles to exploring topics like conflict management and intercultural learning, the camp fostered a sense of camaraderie and equipped volunteers with essential skills. The training emphasized effective communication and the art of giving feedback, vital for volunteer projects' success. The week culminated in an evaluation session, where participants learned about the GROW coaching model to guide their future goals. Overall, the training camp proved to be a valuable experience, empowering volunteers to make a meaningful impact during their time in Italy.
Anniversary Cheers:
Fourteen years of making a difference calls for a celebration, and Fattoria Pugliese Diffusa knows how to throw a party! I joined the organization's anniversary event after I came back from the Volunteer Training Camp in Rome. The people, atmosphere, and of course most importantly the food was amazing. It was a reminder that dedication and passion can indeed change lives and communities.
English Lessons, Conversations, and Cultural Exchanges:
Buongiorno, English enthusiasts! Twice a week, I transformed into a language maestro, conducting English classes for the local community, mostly for seniors of Taurisano. Together, we sailed through grammar seas, conquered pronunciation challenges, and embarked on lively conversations that bridged cultures and built connections between Turkey, Italy, and England. It's a good way to socialize and create bonds with local people.
Sara's Arrival: A Warm Welcome: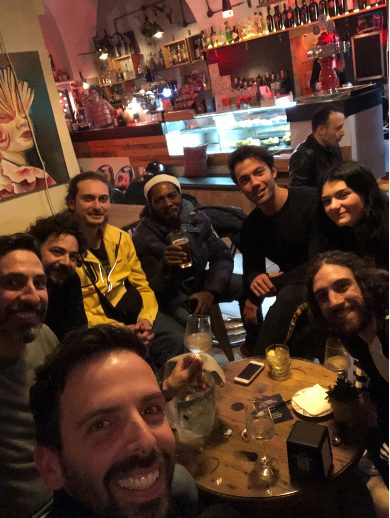 When Sara, a new volunteer, arrived, we made sure she felt right at home. To celebrate her arrival, Fattoria Pugliese Diffusa organized a lively aperitivo, complete with tasty treats and contagious laughter in a local bar called Normal. It was an opportunity for Sara to meet her fellow volunteers and experience firsthand the warmth and camaraderie that defines the Fattoria Pugliese Diffusa family.
March in Taurisano has been a month of connection, laughter, and making a difference. From cleaning rooms to music workshops, from festive dinners to cultural exchanges, my journey as a volunteer with Fattoria Pugliese Diffusa has been continuing with full power. I am filled with gratitude for the chance to be a part of this incredible community. Arrivederci, amici and forza Taurisano!