Greetings everyone! It's time for another monthly update from my volunteering journey with Fattoria Pugliese Diffusa. So much has happened, from welcoming new volunteers to hosting guests from various countries and experiencing the richness of Italian culture. Let's dive into the highlights of this eventful month!
Welcoming New Volunteer and Hosting Guests From Malta and Romania: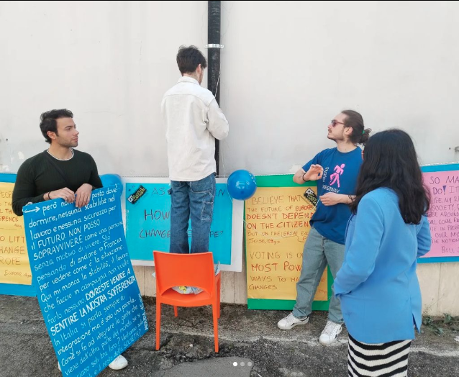 (preparation of street debate)
We kicked off the month by warmly welcoming Marion, a new volunteer from France, to our team. It's always exciting to have fresh faces joining our community. Additionally, we had the pleasure of hosting guests from Romania and Malta as part of the FUTHURE project, which focuses on fostering unity, tolerance, and human rights in Europe.
The arrival of our guests set the stage for an eventful weekend. On Friday evening, we gathered at our local bar, Normal, for a casual meeting to get to know each other. The following day started with a meeting at our office, Fattoria Pugliese Diffusa, where Evangelista shared an insightful presentation. Then, we prepared for a street debate, which had been organized prior to our guests' arrival. After the engaging debate, we enjoyed a delicious lunch and took a well-deserved break.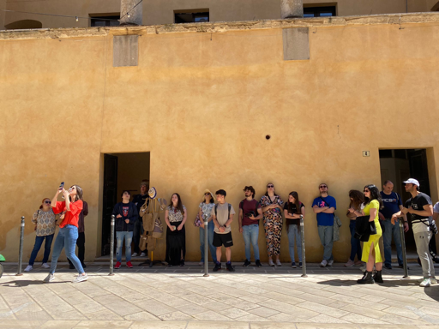 In the evening, we embarked on a cultural adventure, visiting a press museum in Merine. Our exploration continued at the Centro di Cultura Popolare in Melpignano, where we enjoyed in local traditional food accompanied by captivating live music. The following day, we visited Presicce, a nearby town, and embarked on a guided tour to learn about its rich history. The day continued with a delightful wine tasting experience at a local winery in Presicce. Later, we gathered at Casa Turrita, another building of Fattoria Pugliese Diffusa, for a delightful barbecue prepared by Evangelista and Emanuele.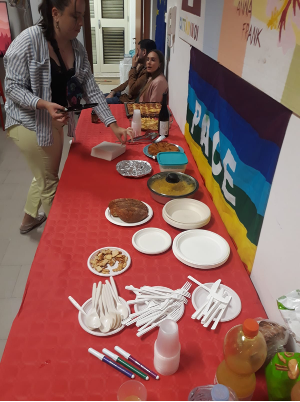 Our guests then continued their journey to Leuca, while we volunteers returned to Taurisano to prepare traditional dishes from our respective countries for an international dinner night. It was an enjoyable evening of cultural exchange and mouth watering delicacies. I proudly presented Haydari and Humus from my home country.
Exploring Social Agriculture with Ombre Rosse:
(Wheat Field)
On the weekends, I usually participate in music workshops, but this time I had the chance to join a cooking workshop at "Ombre Rosse" in Taurisano. This initiative focuses on social agriculture and promoting local and ethical food culture. It was a fortunate change of pace, and I thoroughly enjoyed the experience.
Taranta Festival in Specchia: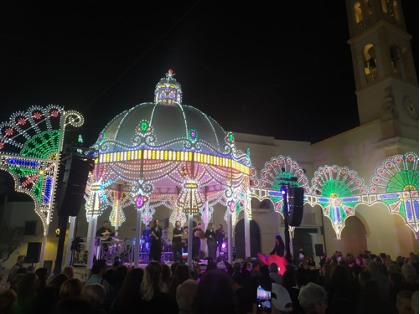 One of the memorable events of the month was our visit to Specchia for Festa della Taranta on May 19th. It was my first time experiencing Taranta, and I was captivated by the vibrant traditional music and the lively atmosphere. Alongside our Italian teacher Edoardo and Giovanni, another local volunteer, we were amused by the world of Pizzica music. The concert in the town square was followed by an enchanting circle dance where people played tamburella, and danced ferociously for hours.
Job Expo in Miggiano:
We also attended a job expo in Miggiano, where Fattoria Pugliese Diffusa had the opportunity to inform people about our organization, Eurodesk opportunities, volunteering, European Solidarity Corps, and job prospects. It was the first time our organization participated in the expo. Moreover, it was my first visit to Miggiano, which added a sense of exploration to the experience.
Meeting in Raccale for We Europe Project:
Towards the end of the month, we had the privilege of attending a meeting called "We Europe" in Raccale. While I personally have some reservations about using the term "Europe" due to its exclusivity towards non-EU individuals, I understand the intention behind promoting inclusiveness within Europe. Raccale left a lasting impression on me with their inspiring initiatives, such as transforming an old train station into their office space. We had a meaningful meeting under a majestic tree in their garden, discussing our feelings and experiences as volunteers, as they were preparing to host volunteers from across Europe. To sweeten the gathering, we enjoyed the delicious Raccale Biscuits, with my personal favorite being the one with pistachio. Before leaving the town, we shared a joyful moment at a local bar, enjoying a beer and getting to know each other better.
This month has truly been a whirlwind of adventure, cultural exchange, and personal growth. As I reflect on these experiences, I'm happy to be a volunteer and collaborate with Fattoria Pugliese Diffusa. From embracing local traditions to exploring the culinary delights of Puglia, each day brings new discoveries and meaningful connections. I eagerly look forward to the coming months! Thank you all for being a part of this incredible journey!
Stay tuned for more updates and adventures!
Grazie mille!