Are you ever too old to dress yourself up as a cute animal for carnival? Some people may quickly answer "yes" to this question, but we saw it as our responsibility as good "zie" to fully commit to the festive spirit in the kindergarten and give our best performance as cocinelle. For weeks the upcoming Carnevale was the main topic of our mornings, when we learned new songs, decorated all rooms of the kindergarten and discussed different costume ideas with the children. A sensitive topic, then mixing up their wishes of being Spiderman, Superman or Captain America could easily result in big protest, only interrupted by the daily statement of one of the girls: "E io sono Frozen!" But of course celebrating Carnevale was not all we did during those last weeks in the kindergarten. Pauline finished her photography project by creating a beautiful photo book about "Due stagioni al micronido" ("Two seasons in the kindergarten") and single portraits for every child, we celebrated Valentine's Day and got pretty excited about five minutes of little snowflakes. But imagine! Snow!! In southern Italy!!!
Our February then started with the On-Arrival training, a training course organized by the Italian National Agency for all ESC volunteers in Italy. From Monday to Thursday we learned in two daily sessions about theoretical aspects of our voluntary service and talked about our personal experiences. It was great to hear from other volunteers and realize that, although our projects might be completely different, we experience a lot of similar challenges. Due to the ongoing covid situation the training was held online, but the trainers did a lot of effort to make it still interesting and interactive, for example by letting us recreate Italian art or develop memes about the Italian culture.
One of our favourite experiences in February was our weekend trip to Rome. On our first visit in November there was not a lot of time to explore the city and also Elena did not manage to visit everything, when she came back on her way home over Christmas, so we took the opportunity when other German and Spanish ESC volunteers from projects in Hungary proposed us to meet them in the Italian capital. Together we revisited the Centro Storico, saw the Colosseo, Trastevere and Parco Villa Borghese and even coincidentally saw the Pope, while visiting the Vatican.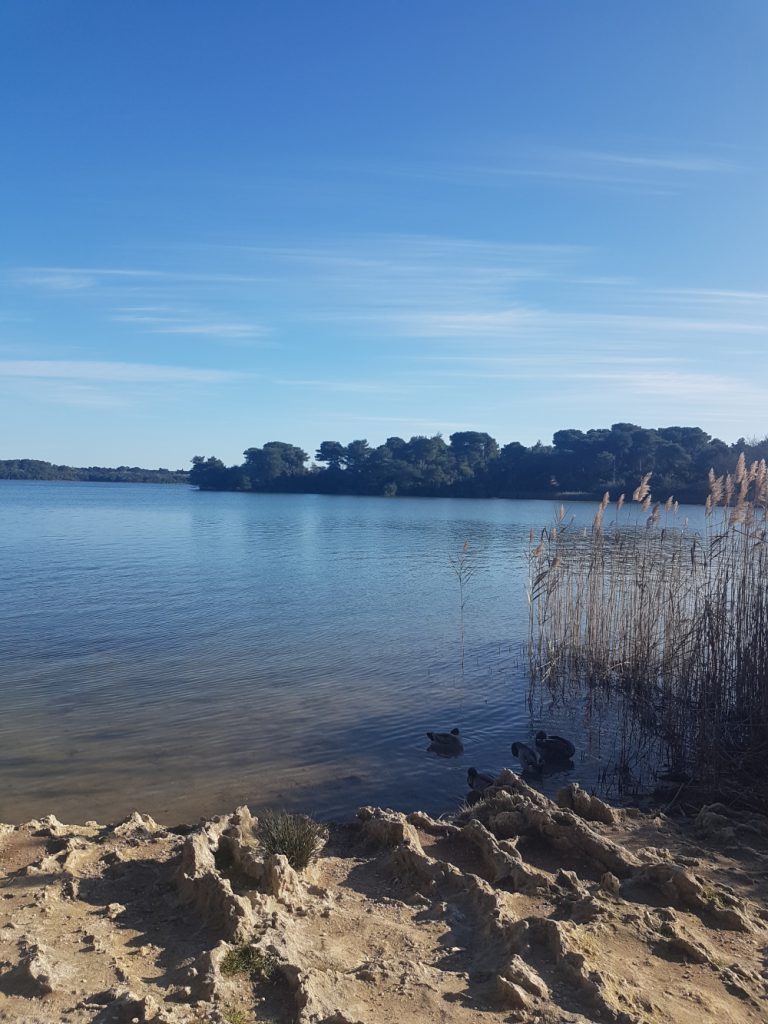 When we did not went to Rome, watched a football match in Lecce or enjoyed our self-made pizza with old Disney movies, we made use of the Europanda on the weekends to discover all the beautiful places in our region we had missed so far, including the long stairs in Leuca, Laghi Alimini, beaches close to Otranto and the town of Speccia.
During the week, as mentioned in our last blog post, we expanded our language course offer by starting a second English course and a small German class, besides our existing English course. The "Originals" continued with already advanced grammar topics like the passive – as balance we did oral hotel promotion conversations, where we got surprised about the existence of unicorns in the hotel- owned beach bar. In the meanwhile our new English course, divided into two levels, started with the basics and Elena finally got a chance to convince other people that German can be a really beautiful language. In the preparation of her small course she was sometimes surprised about the overly complicated rules of German grammar, but with the help of classics like "Eins, zwei, Polizei" she managed to teach her students some basics, so they are now even able to understand words like "Rindfleischettiketierungsüberwachungsgesetzverfügung".
Already in the beginning of March, as one of our last big projects, we got the chance to welcome an international group for a meeting in Lecce, as part of an EU project about cultural heritage and social inclusion. We could not participate in all activities, but we gave a final presentation about our ESC experience, visited Lecce and Corigliano d'Otranto and got to meet and talk to great people from all over Europe.
And while writing these sentences we are on our long way back from an international project meeting in Bukarest/Romania, but more about that in our next (and last) blog post…