"It feels a bit weird to know that we'll be living together soon, without really knowing each other" "That's right, it sounds crazy! But I don't doubt it'll be okay"
These are some of the first messages we exchanged only weeks before starting our ESC voluntary experience in southern Italy. For six whole months we left family, friends, school, university and all the other well-known parts of our lives behind at home in France and Germany and moved to a small town in Italy to discover everything this place far from home has to offer. Now, more or less one month into this new life, we can say that everything definitely felt weird and crazy at first, but it soon turned out to be definitely more than okay.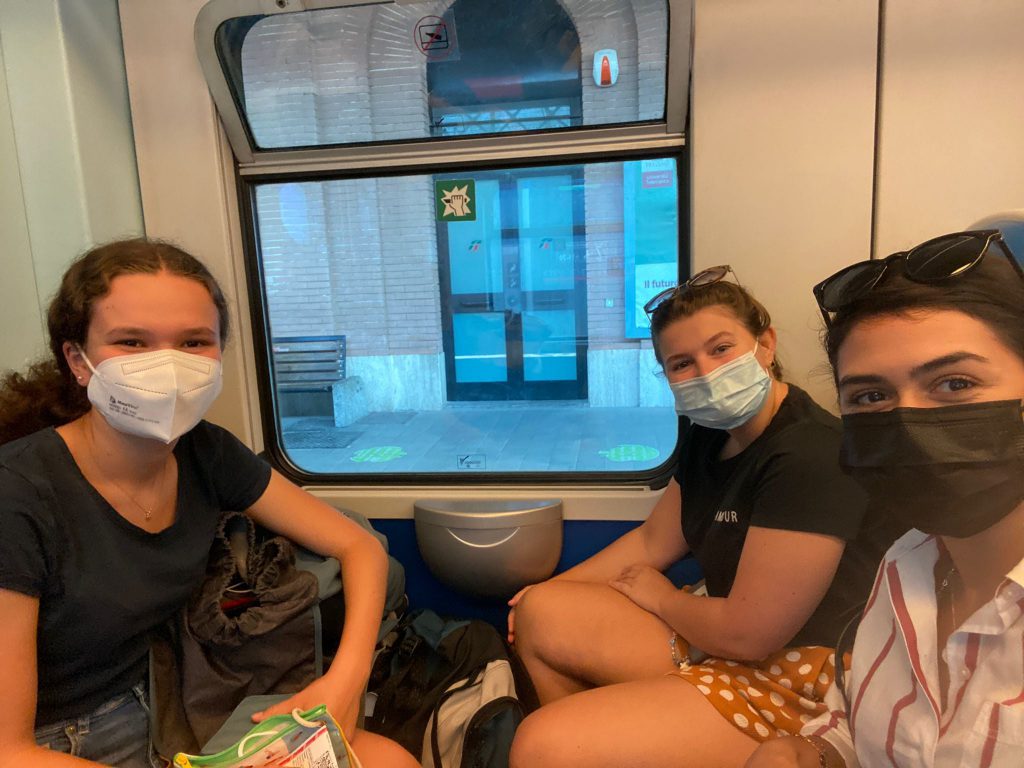 We arrived here on the 9 th of September and after a day of recovering from waking up early for our flights we started right away with what would be our daily life for the following six months. In the morning, we support the kindergarten teachers at local "Le Nuvole" with various creative and playful activities for children between zero and three years. Fortunately, children don't care at all about existing or non-existing language barriers and we soon managed to learn their favorite songs, so by now we can sing all together and it is not uncommon that we walk home in the early afternoon humming about "il coccodrillo come fa".
When we first saw the weekly timetable with our activities, we were quite surprised about the times. "Are you sure you didn't mistype that? We have a lunch break of…four hours??" Living in another country certainly not only means learning a new language or trying out delicious food, but also being confronted with different routines. We sure needed some time to get used to the Italian daily structure of having a long break in the afternoon and therefore staying at work longer, than we are used to from our home countries. And yes, sometimes we are still struggling with late hours of having dinner, but at the same time we are happy about this unfiltered experience of Italian culture. Now we make use of our long afternoon break to go to the supermarket, practice our Italian through the Online Linguistic Support System of the EU or simply relax in our apartment.
In the afternoon we return to the office of Fattoria Pugliese Diffusa for various daily activities. During the last month we worked in a summer camp for children, took part in a 3D-printing workshop and supported the various local and international activities of the organization. Clearly our favorite tasks during the last month were attending an international meeting of partners for an ERASMUS+ strategic partnership here in Taurisano, supporting a street debate about necessary changes in Europe in Lecce and presenting the European Solidarity Corps at an event on Erasmus Days to interested local young people.
Living in Puglia, a part of Italy both of us had never visited before, we surely did not spent all of our days working, but took some time to discover the region. We drove to the most southern part in Santa Maria di Leuca, went to the beach on one of the last really warm days and spent a few days in Bari and Polignano a Mare.
Now, as more than one month already went by, we can proudly say that we adapted pretty well to our new surroundings. We know where to buy the best pasticciotti, greet our favorite cats and dogs on the way to the kindergarten, know the trick to open the washing machine and no longer wince every time someone honks just to greet his neighbor.
Six months seemed like a lot of time at the beginning, but it is incredible how fast time moves when you are living in an unfamiliar county. We definitely want to make the most out of our remaining months, so we are looking forward to new starting activities like "Verde Natale" or the "International Coffee" and getting actively involved in more projects of FPD during the upcoming weeks.
Pauline & Elena