Does it even get really cold in southern Italy? Oh yes, it does. With the second and third month of our voluntary service passing by, we left the last really warm days stuffed with different activities behind and took out the warm jackets and scarfs heading towards Christmas.
In an organization that dynamic and diverse like FPD, no week looks exactly the same and especially this last period was one of a lot of new activities. We finished the 3D-printing Lab by decorating the office with personalized door plates, participated in the "Puglia Ti Vorrei" meeting about necessary changes in local youth policies, started supporting "Verde Natale" and a digital alphabetisation course for seniors and now also take part in the female theatre workshop "La ballata dell'amore", with which we already had our first little performance.
And of course there is the project we are probably most proud of: the start of our first English course. From the beginning of our time as volunteers we not only wanted to support and accompany existing projects, but also create something new and useful for the community. The idea of an English course for adults with only basic knowledge of the language popped up quickly and matched perfectly what we had imagined. During the last weeks we started with basic grammar topics, such as simple present, simple past and the wh-questions, combining one more theoretical with one more speaking intense part each lesson. For both of us it was the first time to change from students into teacher's perspective, which was scary at first, but bribing the participants with cake during the first meeting definitely helped and we love preparing the lessons and are really proud of the development of all our learners.
Another highlight during the last weeks was the trip to Rome, where we attended our first international meeting outside of Taurisano. In the European Network of Networks "Ec-Net" we met partners from Croatia, Albany, Martinique, Spain, Portugal and Poland to talk about intercultural dialogue from personal experience as well as the perspective of public and private institutions. What made those three days so special was not only the delicious food or the chance to visit some of Rome's most famous sights after the meeting, but the opportunity to openly talk and discuss with people from so many countries, we would have never met otherwise. So although our time in the eternal city was accompanied by a lot of rain and Pauline is still looking for an opportunity to eat Pasta Carbonara in a restaurant (who would have thought that this could even be a challenge in Italy??), the short trip was definitely a success.
The five hour train ride to Rome was by far our longest travel, but we also used our new gained freedom, made possible by our new bikes and the "Euro-Panda", to discover some more highlights of the Salento region. We visited Lecce and Gallipoli and went on a little hike in the natural reserve "Porto Selvaggio". The reaction "Yes, that's a wonderful place, I only saw pictures, but have never been there" by people living in the region their whole life, was surely not what we had expected, when we talked about our trip to this beautiful coastline.
But sure, exploring a region is more than visiting its famous sights. For us, it also included having unexpected public holidays, celebrating San Martino with a lot of friends, food, wine and music and being able to add "Italian-grandma-approved-orecchiette-makers" to our CV, after we spent a wonderful evening forming this traditional pasta under the watchful eyes of some real experts.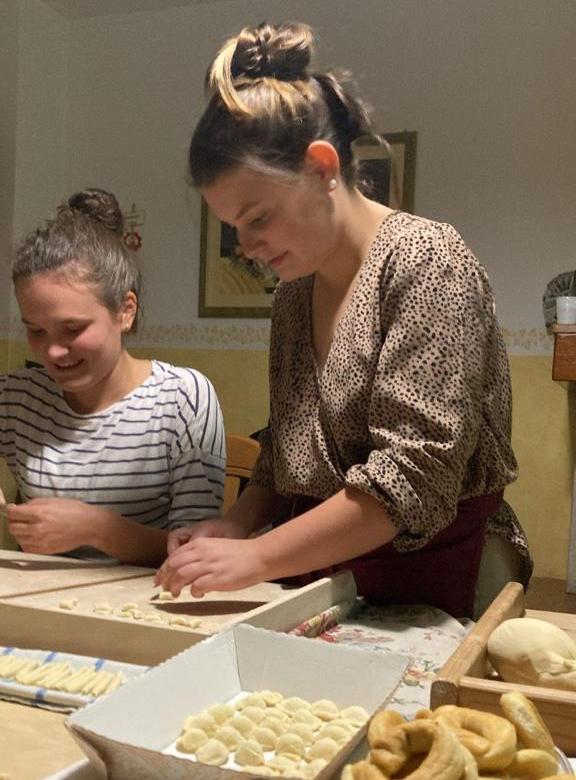 After our first month full of new impressions and getting to know our environment these last two months finally made us feel like home. We can proudly claim to be "false" Italian girls now, but we will never give in the threat of coffee, no matter how often you will offer it to us.
Pauline & Elena